brightknightie.livejournal.com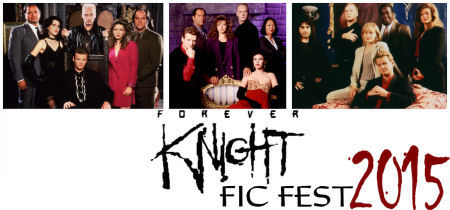 FKFicFest AO3 Collection | All FK on the AO3

fkficfest
/
fkficfest
, the annual
Forever Knight
(1992-1996) ficathon game, is open for sign-ups until June 14. Come one, come all! Celebrate our remarkable "vampire homicide cop" show and the astonishing fandom of which you're a part!
This is our sixth annual game, so you probably know the drill. (
Complete 2015 rules, instructions and examples
.) We've added one twist: In the event of 8 or fewer exchange sign-ups, we'll throw open the gates with a classic FKFic-L-style "challenge" game.
06/14: Exchange sign-ups close at noon Pacific Time.
06/15: Exchange assignments are emailed or the challenge prompt is re-posted.
08/22: Stories are due on the AO3 at 11:59 PM Pacific Time.
08/24: Stories begin revealing, and continue at one per day as long as they last.
Come play! FK's rich premise and unforgettable characters are ripe for new stories grappling with the new questions in our lives. What FK tales and twists do
you
most want to read?